I had no more fight in me
At the age of 24, Raquel was diagnosed with QT syndrome (a genetic condition that makes the heart beat un-evenly) and had a defibrillator implanted.
She experienced seizures and cardiac arrests, which were later compounded by liver problems. As a result, she spent much of her time in and out of hospitals and relocated to Vancouver to be closer to care.
Raquel says she felt unseen and unsupported in most of these health care encounters, which contributed to high anxiety and depression.
"I was ready to call it quits, she said, "I had no more fight in me."
Raquel meets Ange
St. Pauls Hospital is home to the oldest and often busiest Emergency Room in Vancouver. On average, the care teams sees 250 people a day, for a total of over 92,000 visits a year.
Serving the busy downtown core and east side, the hospital is building expertise in specialized care for people experiencing substance use and mental health challenges.
"When I was admitted to St. Paul's, I couldn't talk to anybody without crying or like yelling," explains Raquel. She recalls feeling sad, angry and overwhelmed.
Indigenous Wellness Liaison Ange Thomson showed up at her bedside, and although Raquel was in a fog, she recalls how Ange "Instantly made me feel at ease, safe and comfortable. She was like a mother to me."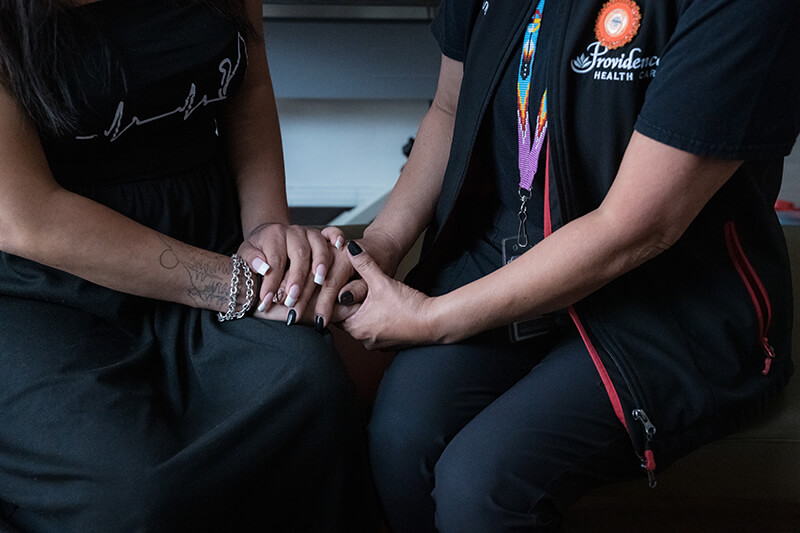 Angela (Ange) Thomson is Sto:lo and Kwakwaka'wakw and a member of the Indigenous Wellness Liaison Team (IWL) at Providence Health Care (PHC). She brings over 12 years' experience in the helping field to the role.
Ange says her role is that of a two-way advocate where she builds rapport with and helps the doctor understand the patient's needs and questions. She then helps the care provider translate medical terms so they are clear and understood by the patient.
The IWL team are all Indigenous and provide a range of cultural, spiritual, social, and emotional supports across PHC, including St. Paul's. Last year, the small but mighty team of five provided 1,388 consults to 1,019 patients.
The team is part of a broader network of 71 Indigenous Patient Liaisons providing these services across the province.
Harm Reduction, stigma and stereotyping
Raquel says that she initially couldn't stay in hospital because they expected her not to drink. "They wanted me to just quit cold turkey, and without meds, that's just not realistic." Ineligible for Naltrexone because of her liver condition, Raquel came and went from the hospital as she weaned herself off alcohol.
She said it meant a lot that whenever she came back to St. Paul's, the IWL's were there. Raquel says she was able to open up to Ange comfortably because Ange is also in recovery.
"I'm so used to being judged everywhere I go." Raquel says her eye doctor blamed an eye condition on drinking too much. However, a second opinion revealed that Raquel's meds were the cause. "So just because you drink, they put a label on you and that is not okay. And I didn't even realize it. The sad thing is, is that most natives don't realize when they're being judged on their addictions. And they just think it's normal, which is sad."
Stereotyping by health care professionals had eroded Raquel's trust in the system.
A familiar face, an occasional baked pretzel, and Ange's non-judgemental outlook and encouragement created some necessary space for Raquel to take control of her health journey.
Healthy boundaries and coordinating care
Because Raquel's health conditions touch on three organs, the heart, liver and brain, there are many care professionals involved in her care and sometimes they didn't talk to each other.
As an inpatient, any given morning, she would see a handful of doctors and nurses waiting outside her door. This constant traffic and answering the same questions over and over was exhausting.
Ange Thomson says the first thing Raquel wanted to work on was setting boundaries around her care.
Ange worked with the medical team to implement a 'do not disturb' sign on Raquel's door so she could sleep and stabilize.
They also put a note on Raquel's chart instructing care providers to call the Indigenous Wellness team if they wanted to conference with Raquel. IWL's played a vital role in these meetings, translating for both medical staff and Raquel.
"Our job is both translating and trust building," reflects Ang. "We're there to help Indigenous patients and their care providers to better understand one another."
Raquel explains that having Ange coordinate between her and the multiple care teams provided immediate relief.
"They talk to me like normal people, we joke and have fun, they don't treat me as a patient. They treated me like family."
These boundaries, and the realization that she could set them, was transformational for Raquel.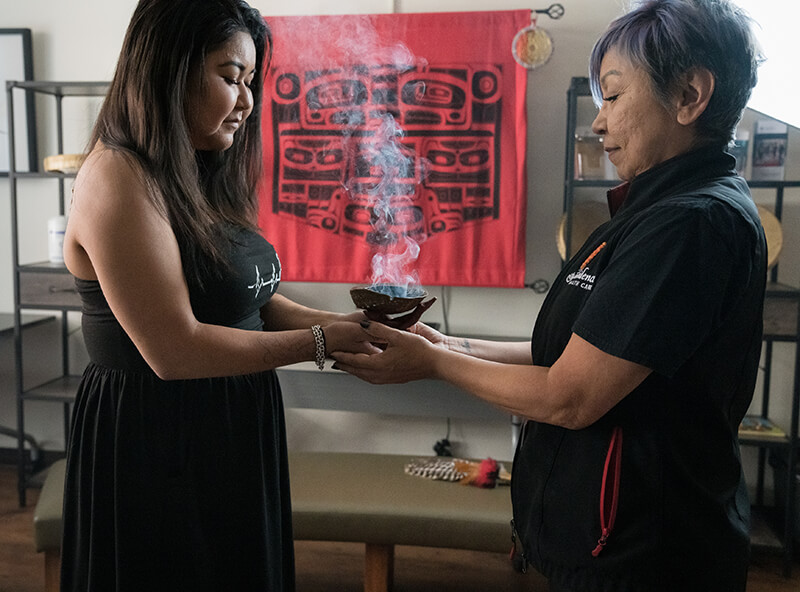 Where did time go? I need to get on it.
The hospital stays have become less frequent, and Raquel has paused drinking for the last eight months. Still, her anxiety and other health conditions require a lot of management and self-care, and there are some rough days. She says that when she got out of the hospital and felt more clear, she realized how quickly time was passing. "My nieces and nephews are growing up and I'm like what did I do with all my life? I need to get on it."
Raquel has spent 2023 reconnecting with her family, clan and Nation. She's been in school for the last four months and is preparing for a Ne'duten leadership course this summer.
Ange reflects on Raquel's strength. "We let her know how important she is and asked what can we do to help you through this. But she did the work." Raquel credits the liaison team for reminding her that life is worth living. "They pointed out that there's so much more to fight for, and it's not just for everyone else's sake. It's for my own."
When Raquel Joseph was admitted to St. Paul's Hospital in 2022, she was unhoused and battling complex physical and mental health challenges. Far from her home community of Lake Babine Nation, the hospital's Indigenous wellness team offered her a vital lifeline of connection, care, and culture.