Leaving & Returning
Lauren Marchand is Syilx and Secwepemc and recently moved home to Okanagan Indian Band (OKIB) lands after being away for 10 years.
She is one of three sisters from a boisterous and tight-knit family. The 31-year-old left home as a young person to pursue educational and employment opportunities.
Marchand worked for years as an early childhood educator before translating her passion for art into a career as a digital artist and visual communicator. She is now a partner in Your Syilx Sisters, an Indigenous Storytelling Agency.
Health, Community, Culture, and a Sense of Security
When she became a parent, Marchand wanted to move home so her daughter could grow up like she did – close to family. She says it was important that her daughter had access to her inheritance – Syilx language and culture.
Prior to moving home, access to language and culture was harder for Marchand.
"We were living in town at Native housing, and I'd drive my daughter two hours a day to bring her to the cultural immersion school." recalls Marchand. "She is now able to take the bus for 35 minutes and I feel so much gratitude for this every day."
Marchand laughs "Well, the novelty of the bus has worn off for her, so we are constantly negotiating!"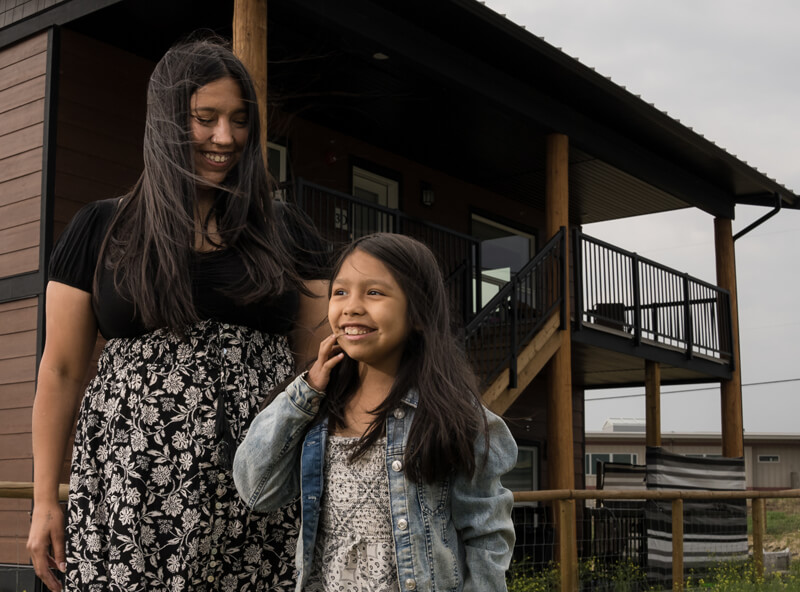 Part of access to culture is being part of a protective community living Indigenous values. Marchand says that moving home is providing access to this network of protection and safety.
Years ago, she was the target of a malicious report to the Ministry of Child and Family Development that resulted in an investigation of her home. She said she was grateful that OKIB Chief and Council intervened, but the damage had been done – her home searched without her permission, and her sense of security eroded.
"Living in community now, there is a sense of security regarding outside agencies, the RCMP, or the Ministry, they have to go through a few more steps in order to access families. And I think that is really amazing. Because I do have that sense of security."
Now, she says "If anything were to happen, I have people around me that are actually witnesses. I feel like I have a lot more control over my environment."
She says this accountability goes two ways.
"Honestly, you're kind of surrounded by people you're accountable to which is like something that I never really thought about." says Marchand. "Because living in town you don't know your neighbour. So no matter what happens in my house, I'm accountable to somebody."
Playing Catch-up. The on-reserve housing gap
Marchand says it wasn't easy to get housing on-reserve.
These sentiments are echoed by OKIB Public Works and Housing Director Jolene Vincent, who says that several factors are contributing to the crunch, including the rising cost of rent in urban centres, higher lending rates due to inflation, and pressures on existing housing stock. Once construction is green lit, rising cost of materials and supply chain issues have complicated the building process. OKIB's waiting list has tripled in the last three years.
"Thankfully, BC Housing chose to fund housing on-reserve and it worked in our favour," said Vincent. "The four-plex housing project is a good start in expanding our housing inventory, and our hope is to see more projects take shape."
The on-reserve housing gap is wide, deep, and historic. A century of neglect by federal and provincial programs and policy means that First Nations have been ineligible to participate in most social housing initiatives.
Social and land management policies have incentivized First Nations people to move away from home too.
Marchand observes, "So many of our kin are houseless or couchsurfing – have no fixed address because of the fact that we don't have access to affordable housing."
Now First Nations are playing catch up but it's hard to get ahead of the wave. That's because more and more people are wanting to move home.
According to OKIB Chief Byron Louis. "Many OKIB members want to move to the reserve to be immersed in their culture and to be among family and friends. The opportunities for OKIB members to return to the land are hampered by a lack of housing, so many members cannot find housing on Band land and therefore cannot live among the people in their own culture. This must change, so any and all housing options are considered."
Marchand says that housing has been especially hard to access for single people like herself.
OKIB Chief Byron Louis agrees. Historically, tranches of housing dollars have focused on stand-alone single-family homes. That's why Chief Louis was excited at the prospect of building a 16-plex of apartment-style homes.
"One of our demographics that is often overlooked is people that are single." Chief Louis continues "So it's not a one-size-fits-all approach, you got to have a very good mix when it comes to homes. So you provide those options to the greatest extent for your community or your population, it's really no different than anywhere else when it comes to housing needs."
The new 16-plex was built on time and on budget with Provincial funding through BC Housing. It accounts for 16 of the 1,519 units of new social housing built or underway though funding from the Indigenous Housing Fund.
The building process itself wasn't easy. Fluctuating cost of materials, supply chain issues, and timely access to funding.
Louis says it was the first time his community worked with BC Housing and that it was a very positive relationship and engagement. "With the success of this project, we are looking forward to further opportunities to develop homes on reserve land."
Marchand observes that having a place to call home has been really liberating for young folks. "I noticed a lot with this younger generation being able to have, especially the single unit out here, for them to be able to find a home and move out of their family's house is amazing."
A rightful inheritance
For Marchand and her daughter being home has been good medicine. She recognizes that not everyone wants to move home but feels having the option to do so is important.
"It's good to know that people that want to come home, can. It really helps with, I guess, the impacts of colonization, and being so far removed from your home, your teachings, your family, things that even you would just kind of catch in the environment. If you walk into a building that has your art style on the walls, it has your language on the walls, something that kind of makes you feel connected to who you are as an indigenous Person or a sqílxʷ." In this way, the new housing project at Okanagan Indian Band is reconnecting its members to their rightful inheritance, of culture, language, and community.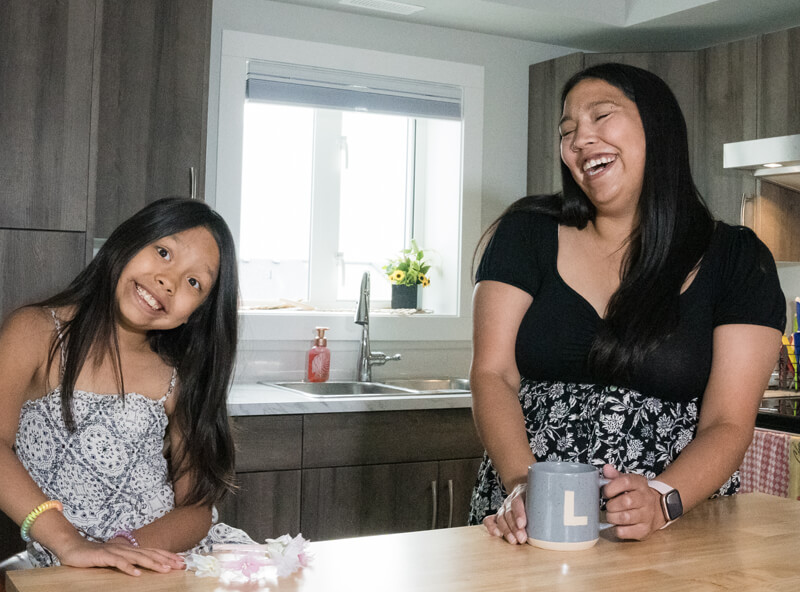 "Living in community now, there is a sense of security regarding outside agencies, the RCMP, or the Ministry, they have to go through a few more steps in order to access families. And I think that is really amazing. Because I do have that sense of security."